Roofing Contractors Warren Township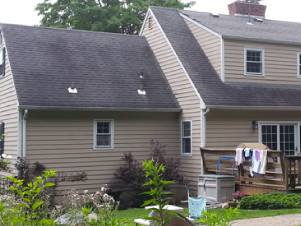 Every homeowner desires a home that's in great condition and has optimal resale value. After all, it's a serious investment, one that you want to maximize by making sure that your property is as impressive and attractive as possible. The better your home looks, the more your property value increases, so it's in any homeowner's best interests to take any advantage they can in upgrading and beautifying their domicile. One of the most effective ways to do that is by paying special attention to the roof, as it's condition has a great influence on your overall home value. It's not a task you can rush into alone, though, so knowing where to find the best roofing contractors in Warren will go a long way in accomplishing this very important goal.
The Roof Makes The Home
In part, at least. The state of your roof has a direct effect on the worth of your home. If it's old and in need of repair, considering a replacement isn't an option to balk at. Sure, some homeowners might grouse about how it may take a significant investment of funds, but check this report out from CNBC. That investment grants significant returns that boost your home value. They estimate that just a simple roof replacement can up the selling price of a home rather significantly:
"Spending $14,000 on a new roof can add curb appeal and up the asking price by $10,500, for a ROI of 75 percent."
It goes even deeper. Not only will installing that new roof increase the home value. With the right upgrades, some cool new roof technology will help your home conserve energy, increasing insulation and making it easier to heat or cool. That will help slash your energy bills and save you a pretty penny in the long run.
Beyond that, though, it'll make your home look nicer. That term, "curb appeal," is a very real thing, and if yours is the house with the ugly roof, others will absolutely take notice. Your home is more than just where you lay your head. It's a reflection of your person, and every person wants to take pride in the place they choose to live.
It makes sense, then, that you would want the best roof you could possibly get for your home, and turning to the cream of the crop in regards to Warren roofing companies is your best bet for making this happen.
When You Go With Double D Construction
You're making a clear choice for quality New Jersey-based roofing. We're serious about providing all of our customers with the very best roofs available and always work with them on an individual basis to explore their options and identify the right choices for their situation.
What's more, we work with speed and efficiency, responding to customer inquiries promptly, and going above and beyond when you need a new roof, simple repairs, or an emergency visit to fix an urgent issue. We're on the clock, 24/7 when the going gets tough, so when disaster strikes, you know exactly where to turn.
Consider elevating your roof to a new standard. Reach out to Double D Construction today and find out how we can help improve your roof, your curb appeal, and your home value all in one fell swoop.