Roofing Contractors Somerset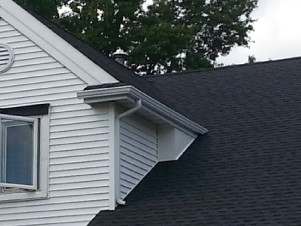 Of all the elements of a home, a good roof is one that can never be overlooked. Your roof braves the elements forming a layer of protection against unwanted water and defending against costly interior water damage. When put up properly, your roof can even help save you money by helping to protect your insulation and more effectively heating and cooling your home. That's a large part of why it is so important to keep your roof in good condition year-round. Some homeowners wait until it's too late to get their roof looking right, but if you're looking for the best roofing contractors in Somerset to do what they do best, you've taken an advantageous first step by seeking out Double D Construction.
Taking Care Of Your Roof Is Important
Because sometimes, you can't immediately tell that something is wrong. One of the main reasons that people wait too long to show their roof any attention is because the didn't realize anything was going on in the first place. Damage to your roof, unfortunately, can happen slowly and stealthily over a period of many years. The best defense is routinely monitoring for some the slight signs that something could be amiss, and giving the roofing pros a call if you notice something.
A cursory analysis starts with surveying your home interior. Some small clues can give away what could be a serious issue. Water stains on the ceiling, for example, could be evidence of an exterior leak that is draining into the home. Even the smallest of leaks can cause water to pool, and lead to a huge repair headache if it isn't nipped in the bud.
If you smell an unexplainable odor but see no water, this could still be a sign that mold has begun growing inside your home and water is somehow making its way in. Time to check the roof, and perhaps even get a contractor on the case.
A visual inspection of your roof itself might also yield some clues. A tear in the roof exterior would be the most obvious sign, but there are more subtle methods of detection as well. Bubbles in the roof cover, for instance. This could mean there is moisture trapped inside that will do major damage if left untreated. As always, the pros can give you an honest assessment of any irregularities, and recommend the best course of action moving forward.
What Makes Us One Of The Best Roofing Companies In Somerset
When it comes to getting roofing in Somerset New Jersey done the right way, it pays to hire the most experienced and effective contractors in the business. If you want the best value for your dollar, you'd be wise to go with Double D Construction, as our talented crews have helped out scores of New Jersey residents just like yourself.
We're all about prompt, quality service, and go the extra mile to make sure that we can assist even in emergency repair scenarios. We're dedicated to making sure you've got a roof that will last, so reach out to learn more about how we can save or improve your existing roof today.