Roofing Contractors Hunterdon County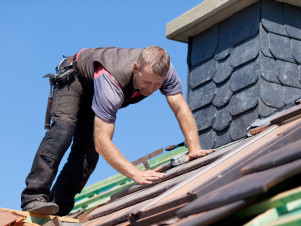 Roof quality is an important home aspect, but, unfortunately, roof upkeep and repair goes overlooked by many homeowners. Most are quick to call their roofing experts when an emergency arises, but, you don't have to wait until the roof is leaking to think about repairs or even upgrades. The advantages to regularly having your friendly roofing contractors in Hunterdon County take a look at your older roof are obvious. If they can catch a little problem before it becomes a big problem, that saves you big on potentially costly interior repairs. Additionally, the reasons for good roofing go beyond fixing the occasional leak. Here's what we mean.
What A New Roof Can Do For You
One of the most used arguments is the incredible value that a new roof can give you if you intend to resell your home. People who trumpet this point aren't wrong, as a new roof has the potential to up your resale price by almost $12,000, hardly an insignificant sum. The reasons for this are simple. A new roof looks much better than an old roof. The better your roof look, the more curb appeal your home has. More curb appeal translates directly to an increased home value.
A new roof also has the chance to save you money, as roofing technology has progressed to a point where it can actually reduce the amount of energy you have to expend heating or cooling your home, thereby lowering your monthly bills. Appearances and costs are only the tip of the iceberg, though, because the advantages of a new roof go even deeper than that.
If you still have a roof from the old days, your warranty was likely 15-20 years. Depending on how much time has elapsed, that warranty could be nearing its end, or already expired. If something happens to your roof, it's no longer covered. The warranties on newer roofs can sometimes be as long as 50 years, depending on what you get, meaning that adding a new roof is a great way to make sure that this vital home asset is still protected for years to come.
Beyond that, when it does come time to sell your home, you'll be able to easily navigate the home inspection rigamarole. With an older roof that may be in disrepair, your chances at a home sale are dead on arrival. With a new, pristine roof from one of the best roofing companies in Hunterdon County, however, Your inspection is much more likely to go smoothly.
Make Sure You Go With The Pros
With so much that a new roof can provide, you'll want to make sure that you entrust it to a company that knows their stuff and cares deeply about giving you the best quality product. Double D Construction is that company. We're consistently raising the bar on what a new roof should be, and holding ourselves to the highest standards possible for our customers.
If you're in Flemington or any other area of Hunterdon County and need a completely new roof, repair work, etc., your first move should be to give us a call and learn more about how we can help you. We're dedicated to high-level service, and always ready to set up an appointment to learn about how we can work for you.