Siding Contractors Warren Township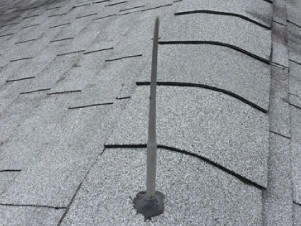 Storms and summer present a serious issue to homeowners. They offer the perfect set of conditions for Mother Nature to do some serious damage to your home by hammering it with intense wind and rain, often severely weakening or completely destroying your home siding. If bits of vinyl or steel are hanging off the side of your home, the obvious move is to go down the list of siding companies in Warren to get that repair work done, but what about if the damage doesn't look so bad? As it turns out, even if the damage isn't obvious, there could still be a few issues that you need to have looked at right away.
Stealthy Storm Damage Can Add Up
Even if a storm hasn't done catastrophic damage to your siding, there's still a chance that it's done just enough for problems to start cropping up. In addition to loosening up the siding on your home ever so slightly, storms are often accompanied by an increase in humidity and moisture. That moisture is exactly what mold and mildew need to start thriving.
With just enough space to start growing, water starts to pool up. As it does, the breeding conditions for some intense mold start to thrive. Over time, this can work its way deeper into your home interior until you start noticing some of the subtle signs of its growth. You may catch a whiff of that telltale, musty odor. You might notice your HVAC unit struggling to keep pace with the new interior conditions. In some cases, you might even notice a fog or condensation indoors, accumulating on your window.
If it's allowed to become severe enough, that moisture can work its way to the wooden structures of your home, reducing their integrity and weakening their stability. This, of course, can add up to some costly repair work, and may even cause your home to become unlivable if it isn't handled quickly enough.
The most effective solution is turning to the premier siding contractors in Warren township to give your siding a look in the event there might be damage. Though the untrained eye might overlook some of the less noticeable signs of damage, a trained professional will know where to look and how to pick them out, preventing you from having to spend extra money down the road to avert a crisis situation.
Now All You Need Is The Right Contractor
Thankfully, this is the easiest part of the process. All you need to do is make a call to Double D Construction. From the onset, you'll notice a considerable difference in how we do business. Not content to simply provide average service, we strive to ensure that every customer interaction is prompt, informative, and as hassle-free as it can possibly be.
We understand how vital your siding is to your home, so we won't delay when it comes to getting your repairs done, and ramp up our efforts even further when we know that it's an emergency situation. In trying times, we make ourselves available 24/7 so that you always have someone to turn to make sure that your needs are addressed.
Don't settle for less. Drop us a line today and learn why we've become such a trusted name in siding installation and repair. We're eager to help you with your next project and get your home back to looking great.