Siding Contractors Somerset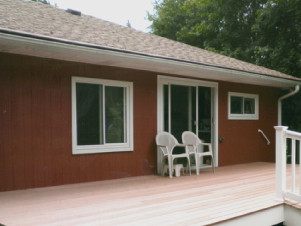 After a while, the overall quality of your home siding can start to diminish. Many homeowners find themselves in this situation, and wonder what the appropriate course of action might be for restoring the look and protective value of this crucial home element. In New Jersey, it isn't uncommon for homeowners to survey the long list of Somerset's siding contractors to determine who can get the job done right. When it comes to that question, we've got a recommendation that will save you a lot of hassle. Go with Double D Construction, and you'll be treated with the peak level of service that siding companies in Somerset have to offer, and walk away with a great looking home upgrade as well.
Why New Siding?
Knowing the reasons behind seeking out new home siding will go a long way in streamlining the process and getting you the best results. The reasons could be vast, and sometimes as simple as you not liking the look. This happens often, especially on older homes where the color starts to fade and the siding is no longer providing the same level of curb appeal that it once did.
This is actually a rather crucial factor. Curb appeal can sometimes be difficult to quantify, but it certainly doesn't come from having worn siding on your home that is in dire need of repairs. What's more, the higher your curb appeal, the better your home value is likely to be, and the more advantageous your position when it comes time to sell your home and move on.
Knowing this, our team can jump into action and offer some of the top choices (and best looking colors) to beautify your siding and give you the home makeover you need to maximize your curb appeal and overall home value.
Of course, it could also be that your home has recently been hit by a powerful storm, or time has taken its toll and the damage to your siding is starting to cause interior problems. In both cases, you'll be doing yourself a favor by calling in and asking for an inspection of your current siding. We can come to your location and ascertain if you might need repair work, or if all the siding should go to make way for an overhaul so you don't have to worry about the elements wreaking havoc on your prized investment.
Why Double D Construction?
Having the best team on hand to complete any kind of work for your home is absolutely crucial. When it comes to something as serious as your home, you need experience, honesty, and a high-quality of work. For all three, you need only turn to Double D Construction. We've been performing work on siding for years, and have earned our spot as one of New Jersey's most well-respected siding contractors.
Whether you need just a few repairs or all-new siding for your entire home exterior, we're here to lend our skills to you. Just drop us a line, and we'll be ready to offer the full range of our services to help bring your home to a new level of beautiful.