Siding Contractors Hunterdon County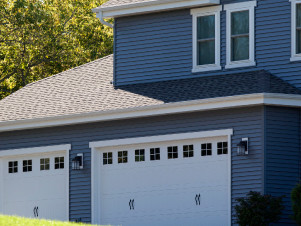 Many homeowners are already well aware of the importance siding plays in protecting a property during the summer storm season. Tips like how you should cut back your plants and keep your yard around your home clean to reduce the chance of moisture buildup and structural damage are widely-known, and those who take home ownership seriously might already have a relationship with some of the best siding companies in Hunterdon who they can call in case of an emergency when repairs are needed. What many overlook, though, is the importance of siding during the colder months, and how it's equally crucial to keep it protected for winter. You might not realize it, but the change of seasons can present some unique issues for your home and home siding, and the time to prepare is well beforehand.
Winter Challenges
The absence of torrential rains doesn't mean there are no challenges for your home and siding to contend with. When winter is coming, that also means that cold is too. Gaps in your home's siding, along with a phenomenon known as thermal bridging can create some uncomfortable conditions in your home if you don't have them addressed.
To make a long story short, if you're siding isn't up to snuff, thermal bridging will cause a high heat transfer rate for your home, and limit the effectiveness of your insulation. In the cold days of winter, that means the inside of your home is going to get a lot chillier a lot faster, and you'll be pumping your heating unit a lot harder to try and compensate for the disparity.
In addition to being uncomfortable, you'll also be paying more in energy costs as you desperately try and warm your home. It doesn't end there, though, because the winter has its own share of rough winds and random debris that can come into contact with your home and potentially cause damage. While old standard siding might not be up to the task of keeping things protected, many of the newer varieties of siding are more than well-equipped to handle the dangers of winter effectively.
Take insulated vinyl, for instance. It can work to shore up any gaps in your home's thermal armor, improving energy efficiency and ensuring that you won't have to spend too much extra on those heating bills. In addition to that, it's insulation provides a better cushion that lays flatter against your home. This keeps it from warping under extreme conditions and even gives it more resistance to unexpected impacts.
What's The Appropriate Course Of Action?
To properly assess what your home will need to prepare for winter conditions, you'll need the services of one of Hunterdon county's siding contractors. No need to settle for anything less than Double D Construction in this case, because we're the cream of the crop when it comes to doing siding right.
We're ready and able to service Flemington and other surrounding areas, and always place quality installation and prompt customer response at the top of our priority list. If you're tired of fooling around with cumbersome, tedious service from less experienced contractors, give us a call and take the first step towards getting the customer-first treatment that you deserve.