New Jersey Siding Contractors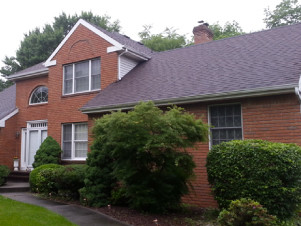 If you've owned your home for a long enough time, then there's a very real possibility that your siding is starting to show its age. Over time, its rich colors fade, the exterior might begin to crackle, and the signs of disrepair can become rather obvious. Do the siding need replacing? Does it require repairs? Many homeowners wonder as to their next steps. You might be in the dark now, but a quick call to one of the best siding companies in New Jersey will help you sort things out fast. Double D Construction can help identify all of your siding options and guide you in the right direction quickly.

Request a siding estimate with Double D Construction today.
---
What Do We Offer?
We offer a chance to make your siding better than it's ever looked before and will do it in a way most other siding contractors in New Jersey can't. Siding has evolved quite a bit from the days of old. The wealth of choice now offers more energy efficient and stronger choices with more colors, textures, and styles available to the average homeowner. With all those options, you need an experienced siding contractor who knows the game inside and out, and who can provide the services necessary to bring your home into the modern siding era.
It starts with inspection. An amateur might not be able to tell what siding just needs a touch-up and what needs a full overhaul, but we sure can. With a call to Double D Construction, we can assess the condition of your current siding and find out exactly what steps need to be taken next. We'll get you an estimate for the work fast, and be ready to either repair or replace your siding with an equal amount of alacrity.
If you do need repairs. We're all over it. Our team has expert knowledge when it comes to performing touch-up. By the time we're done, you won't even notice that your siding needed work in the first place. If a complete re-installation is what you want, we'll be more than happy to give your home the happy new look it needs. We supply the top brands and highest quality and install it with the utmost care and precision. All this to ensure that the pristine look of your new siding will last for years to come.
What Makes Double D Construction The Premier Siding Contractor In Central New Jersey?
The difference is quality and commitment. We only install the best for our customers and source our siding from top manufacturers. We go the extra mile in perfecting our technique, making sure that when we do a job for you, its one that you can count on to go right. We stand by our ethics and our work with a ten-year workmanship warranty, so you can rest easy knowing that your siding is in there for the long haul.
If you're ready for a new standard of siding installation and repair from a company that truly cares about its work, then it's high time you gave Double D Construction a call. We're ready to deliver our prompt and precise service to you, and always ready to go above and beyond to achieve the pinnacle of customer satisfaction.