Home Improvement Warren Township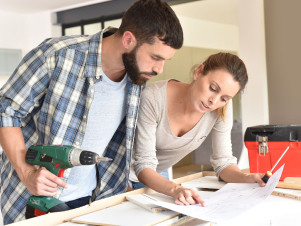 Home improvements are an obvious benefit to dedicated homeowners, for more reasons than one. The aesthetic benefits, in particular, are something that many take pride in. Making sure your home looks its best is a priority that many homeowners share, and a big reason that they turn to the most elite contractors in Warren to make sure the job gets done right. Beyond making your home look amazing, though, there are quite a few more practical reason why you might consider a remodel, and Double D Construction is ready for action if any of them apply to you.
Why Home Improvements Matter
First and foremost, home improvements matter because life changes at an increasingly rapid pace. As the times change, it's prudent to update your home to reflect new design trends and changes within your family.
Your family might be evolving, for instance. It's not uncommon to have a new child, a relative that has decided to move in, or something similar. Alternatively, it may have shrunk. Your kids might have grown up and moved from your home, leaving you with plenty of space to renovate as you see fit.
It could be that your daily routine is different. Maybe you're busier at work, or, alternatively, spending more time at home to finally start a new business. Whatever the case, your home scenario isn't a static one, and when the scenario dictates, changing your home to better match your life needs is always a great investment.
There are plenty of ways to mix things up to suit these life events, and Double D Construction, the home improvement contractor Warren has come to trust, is ready to tackle them all.
If you've found yourself with an added family member, we can help convert one of those extra rooms into the perfect living accommodation to match. If you've now got more space thanks to kids growing up and starting their own lives, we can assist with changing those old rooms into something new. Even if you're spending more time at home and now need a dedicated workspace, we're prepared to help transform the space you need into the modern office that you want.
Of course, if you just need the kitchen or bathroom updated so they look nicer, we're more than happy to help with those tasks too. Our team is up-to-date with all the latest kitchen and bathroom trends and can help you nail down just the right look to perfect your interior spaces.
Why Double D Construction Is The Right Choice
Because quality is the code we live by. We've been doing home improvement in Warren County for years, and have left a trail of happy customers in our wake. You need only check out the testimonials of our past clientele for proof of that. We've always been well-known for promptness, politeness, and workmanship that few can match.
No matter what reason you want your home improvements done, the team for the job is Double D Construction. We're always ready to work with new customers on identifying their needs and renovating their homes the way they want. Drop us a line, and learn how we can do the same for you.