Home Improvement Middlesex County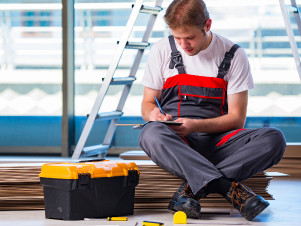 Home improvements are something that are on just about every homeowner's mind. As time marches on, styles and fashions evolve, and diligent homeowners want to stay current with the changing times, often so that their living spaces don't end up looking like antique spaces or time capsules. This could very well cover why you've decided to seek out the services of a home improvement contractor in Middlesex County, but it could just as easily be that you caught wind of a new home trend and are convinced it would lend itself perfectly to that same spot in your home. Not sure of what we mean? As it turns out, this year has seen the popularization of many kitchen and bathroom upgrades.
What's New In Home Improvement?
It's a new year, and that means that a new set of colors have risen greatly in popularity. This doesn't mean that timeless colors like whites and grays aren't still going to remain great choices, but there's now room for homeowners to expand their color pallet with options like bright blues, verdant greens, and vibrant yellows.
What's more, to pull these kinds of upgrades off right, you might not even have to get everything repainted. recent trends have moved towards adding accent colors to different spaces, so leaving a majority of your rooms in one classic color, then drawing attention to a specific feature with a hue that stands out is something you're going to see more and more of.
Countertops have always been a big deal, and there are plenty to choose from. Concrete, granite, laminate, marble, and limestone all have their place, but quartz has risen above the pack as a more commonly sought after countertop material. While you're taking care of those counters, you might also be inclined to upgrade the fixtures and appliances as well.
Brand new stainless steel everything is one way in which many homeowners are going, often with stunning results. Families are also finding that downsizing a few elements is giving them more space in the home, and simplifying their daily routines.
Whether you'd like to follow these trends or kick one off yourself, the skills of the finest Middlesex contractors will be invaluable for reaching your home improvement end goals. There's only one place you need to look.
Double D Construction Can Handle Your Home Improvement Checklist
We're well-suited for handling just about any home improvements in Middlesex County. From New Brunswick to East Brunswick to Edison and beyond, our reach is expansive, and our skills leave nothing to be desired. If you've got a great new upgrade idea you want to try out in your home, tell us about it, and our talented team will devise the perfect plan to make it happen.
All it takes is a call (or an email). We're prompt about setting up appointments and getting to know everything about what our customers want or need. Make sure that your home renovation dreams are in the hands of a home improvement company that can make them a reality. Reach out today and learn how Double D Construction can help.