Home Improvement Hunterdon County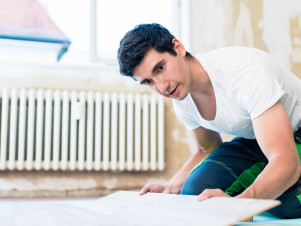 Most homeowners know that doing some upgrades to their interior and exterior spaces is generally a good idea. They'll make your home look more beautiful. They'll make your home more functional. They'll increase your home value. The right improvements might even make your life easier on a day-to-day basis. Unfortunately, many homeowners also procrastinate when it comes to placing a call to the appropriate home improvement contractor in Hunterdon County. Though there might be some legitimate reasons for holding off on improvements, by and large, you'll find that the present is usually the best time to get a new home improvement project started.
Should You Get Those Home Improvements Now?
Let's start by approaching it from a practical standpoint—saving money. One argument might be that by not spending anything on home improvements, you are, in a sense, saving money. Technically correct, but that line of reasoning is the product of short-term thinking. Consider the long-term. If you're going to be in your home for a good amount of time, then taking some steps now to reduce the costs of future expenses could be a better option.
When you renovate your home, you'll do so with the newest and most energy efficient options. New windows and doors have a substantial effect on how much you need to spend to heat or cool it. New appliances in your kitchen and bathroom will drastically reduce the amount of power needed to run them. When you invest in making your home more efficient, you're actually paying yourself back in the form of reduced energy bills and increasing the lifespan of your home's HVAC system, which can be costly to repair or replace.
You'll also be helping to save yourself on maintenance. Newer options for home interiors and exteriors are more durable than their counterparts of old. When installed by the Hunterdon County home improvement experts, their longevity will not be in question. The combination of quality materials and superb workmanship means they'll be good for years to come and require much less maintenance than the options you're currently sporting.
What's more, the breadth of new options has expanded in recent years. You've got your pick of modern countertop materials, from quartz to soapstone to granite and more. There are tons of new appliances and energy efficient light fixtures to avail yourself of, and even newer color options that will make your home more attractive. There's never been a time like the present to get your home improvements done the right way.
Let Double D Construction Help You Out
When it comes to contractors in Hunterdon, there's no better option than Double D Construction. We're ready to roll into Flemington and all surrounding areas to bring our skills to you, and always dedicated to providing our customers with the high standard of quality that they deserve.
No need to wait for great home improvement. Drop us a line, and learn how Double D Construction can make your dream home a new reality.