New Jersey Home Improvement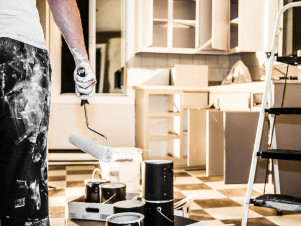 The demand for home improvements, it seems, is on the upswing. More than half of adult homeowners have gotten some kind of improvement work done within the last 12 months, many of which totaled $1,000 or more. Most homeowners have some facet of their domiciles they'd like renovated. A kitchen, a bathroom, perhaps even finishing off that basement. It's likely that you count yourself in the same category. Perhaps you just want the look of things changed, or maybe you want improvements that will serve a practical benefit. It could even be that you'd like your home exterior redone in some way that will improve your curb appeal and add some value to your home. Whatever the case, you'll want to enlist the aid of Central New Jersey's home improvement experts to ensure the job goes off without a hitch.
What You Can Expect From Double D Construction
First and foremost, you can expect to get the home improvements that you want done to the standard of quality that you deserve. We take a great deal of pride in giving our customers the best, no matter what area of their home they want to update.
Let's say your kitchen is outdated and needs to be modernized in a way that will give it greater utility and value. Give us a call, and we'll be on the scene, ready to install new countertops, appliances, flooring, cabinets, and whatever else your kitchen might need to enhance its look. We can do the same for your bathroom, or any other room in your home, and the services we provide don't just stop there.
We're also experts at transforming the exterior of your home into something newer and more exciting. If you've been planning an upgrade for your deck, we can make it possible. If you need to improve your porch, we'll be sure to handle it with superb professionalism. We can even go to work on your windows and doors to make sure they're fully upgraded, energy efficient, and conveying just the look you want for your home.
The broader point is, if you've got a home improvement job that needs doing, we're the NJ home improvement contractor you need to get in touch with to make it possible. While we pride ourselves on our experience and technique, the reasons for choosing Double D Construction run even deeper than that.
A Contractor Without Compare?
Among NJ contractors, we've developed a history of being dependable, reliable, and exceedingly customer friendly. How did we cultivate such a sterling reputation? By providing outstanding service to our customers, and going all out to make their home improvement dreams come true.
Not content to simply do the work and leave you to your own devices, we want to take the time to get to know exactly what you as a customer are looking for, and deliver in stellar fashion. Combined with our prompt response times and reliable scheduling, it makes for an approach that's difficult to duplicate but highly sought after by homeowners throughout the area.
Give us a call or shoot us an email to set up an appointment. We'd be thrilled to help you turn your home improvement dreams into a reality.