Gutter Cleaning & Repair Hunterdon County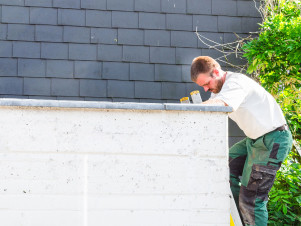 The telltale signs of poor gutter health can sometimes be glaringly obvious. Sagging gutters, water pooling at the base of your home, and animals taking refuge in your gutters are all clear indicators that there is something amiss and that you'll need to have your gutters looked at before a more serious issue presents itself. In these situations, the best step is to call the experts that the community has come to trust for gutter cleaning in Hunterdon County, but you might be surprised at how many homeowners try to tackle this trying task themselves when the situation seems dire, only to find out they bit off a bit more than they can chew.
Why The Professional Option Is Your Best Bet
It should be obvious, but it deserves reiteration: gutter cleaning can be dangerous work. Perching yourself high above the ground and clearing leaves out of the gutter basin (or perhaps even attempting repairs) isn't a part of a normal homeowner's everyday routine. It is, however, part of Double D Construction's daily routine, and our team is more than qualified enough to make the job look like a walk in the park.
The reason for this is because the experienced gutter cleaning and repair team possesses the knowledge to locate and identify potential problem areas quickly. Though you might know which areas to check yourself, the gutter team at Double D is trained to go to the most likely problem areas, to spot the signs of serious damage, and to repair maladies like gutter spikes or tuning up gutter guards so they function at their optimal ability.
Placing a call to the professionals know gutter repair in Hunterdon is an easy task, and one that will save you substantial headache. You can have them handle the heavy lifting while your relax. Our gutter experts will make sure to remove all the leaves and debris, not only from the gutter but from your roof and downspouts as well.
We'll even check the condition of your gutter to assess what repairs might be needed, and clear that excess debris from your yard so you don't have to worry about it getting cluttered after the job is done. For these reasons, having a reliable gutter expert is the best option, and one that every homeowner should seriously consider. All you need is a trusted source, and we have just the recommendation in mind.
Make Double D Construction Your Gutter Cleaning & Repair Specialists
We've got all the qualities you're looking for in a seasoned, professional outfit. Our years of experience have prepared us for all gutter cleaning, repair, and installation scenarios. We can assess problems quickly and tend to them with the necessary haste. We respect our customers' time and busy schedules, and always strive to deliver a prompt service that is hassle-free.
If you want the best for your gutters, it pays to call the best in the business. Reach out to Double D Construction today and find out how we can care for your gutter health, and protect your home in a way few can match.